Procedure
Breast Augmentation Overview
Every year, thousands of women undergo cosmetic breast augmentation all around the world. Breast augmentation is the most popular procedure for a variety of reasons. Over time, the breasts undergo changes due to many life factors, including weight loss, pregnancy, and the natural aging process. Changes in breast shape and loss of volume can cause many women to become dissatisfied with the appearance of their breasts. Breast augmentation helps to restore volume and perkiness to the breasts, reestablishing a more youthful body contour.
Others seek breast augmentation due to dissatisfaction with their original breast size, which may cause feelings of low self-esteem and diminished femininity for some women. These individuals have typically been concerned about their breast size since adolescence and feel self-aware and uncomfortable wearing certain clothing (such as a swimsuit). The impact here is not just psychological. It can be very frustrating to continually try on clothing that fits well everywhere but the bust.
For these women, breast augmentation is an effective solution for creating fuller breasts, enhancing body proportions, and improving self-confidence. Cosmetic breast augmentation is most commonly accomplished by inserting an implant behind the breast tissue on the surface of the chest muscles, or beneath the chest muscles. To ensure scars are minimally noticeable, the incision is typically made in the crease under the breasts. Surgical approaches vary depending on the patient's anatomy and her choice of scar location.
Breast Augmentation With Implants
Most breast augmentation procedures are done using either saline or silicone implants. You will be put under general anesthesia, and an incision will be made on the underside of the breast where it meets with the chest (inframammary fold). The implant is then inserted either under the pectoral muscle (submuscular) or on top of the muscle but underneath the breast tissue (subglandular). Placement of the implants depends on many factors, including Dr. Spiegel's recommendation and your own anatomy.
Types of Breast Implants
The type and size of implant used for breast augmentation are determined based on the patient's goals, preferences, anatomical features, and the recommendations made by her plastic surgeon.
All breast implants include a silicone elastomer shell that comprises the translucent outer layer of both saline and silicone implants. Dr. Spiegel uses only smooth silicone shells, which are not associated with ALCL.
The two major types of breast implants are:
Saline Breast Implants
This type of implant is filled with sterile salt water and pre-filled to an agreed size
Saline implants can also be filled at the time of surgery to make minor adjustments as needed.
Silicone-filled Breast Implants
These implants are made of a "cohesive" silicone gel, giving them a more natural appearance and feel than saline.
Silicone implants are filled prior to surgery and require a longer incision for proper placement.
Breast Augmentation With Fat Transfer
Autologous fat transfer, or fat grafting, is a relatively new technique for breast augmentation. Liposuction is used to remove excess fat from a donor area of the body. The fat is then processed and the purified fat is injected into the breasts.
This technique is best used in patients who are looking for a small increase in breast volume, or in combination with breast implant placement for a softer, natural augmentation, with enhanced cleavage.
The major benefit of this technique is the ability to camouflage breast asymmetries, build volume naturally with fat, and of course the added benefit of improved contour at the site where liposuction is performed.
Candidates
You may be a candidate for breast augmentation if:
You are dissatisfied with the size of your breasts
Your breasts are noticeably asymmetrical or have an elongated shape
You feel your breasts are too small in proportion to your body
Candidates should be in good health and have realistic expectations about the results of their surgery. During your consultation, Dr. Spiegel will work with you to develop a personalized plan for your breast augmentation.
Benefits
Benefits of Breast Augmentation
Breasts that are more proportionate to your body
Improved breast symmetry
Fuller, more youthful bustline
Improved self-confidence
Risks
As with all surgical procedures, there is a risk of infection, bleeding, and scarring with breast augmentation. Other complications specific to breast augmentation include implant leakage or rupture and capsular contracture (the formation of tight scar tissue around the implant). Dr. Spiegel will give you detailed instructions on how to minimize any risks associated with the procedure.
Recovery
Following your surgery, your breasts will be wrapped with gauze bandages, and you will wear a support garment to help minimize swelling and aid in healing. Pain usually subsides in one to five days, but soreness and swelling may persist for a few weeks. Dr. Spiegel will give you specific post-operative instructions, including when you will be able to resume normal activities. You may be prescribed medication for pain and possibly antibiotics to help fight infection. It is important to follow Dr. Spiegel's instructions to ensure you heal properly and get the results you desire.
Results
You will begin to see the final results of your breast augmentation once the swelling goes down and your implants settle into place, usually within a few weeks. Annual exams will help you monitor your implants and breast health.
Deciding to have breast augmentation surgery is a very personal choice. Dr. Spiegel will consult with you extensively to ensure this is the right procedure for you and that you achieve the results you desire.
Before & After Images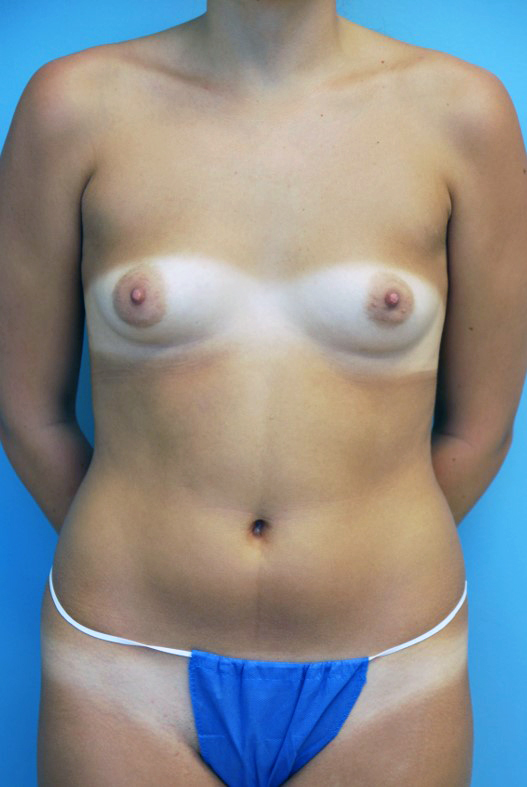 Before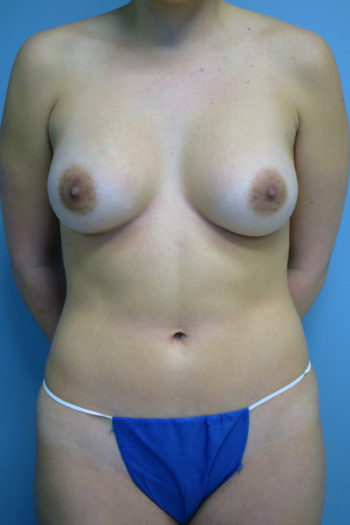 After